If you live near New Castle, you only need to travel a short distance up I-376 E. to receive exceptional oral surgery care from Dr. John Clemenza at Keystone OMS. As a highly trusted destination for comprehensive oral and maxillofacial surgery services, you can count on cutting-edge technology and compassionate care to achieve optimal results.
---
Meet Oral and Maxillofacial Surgeon Dr. Clemenza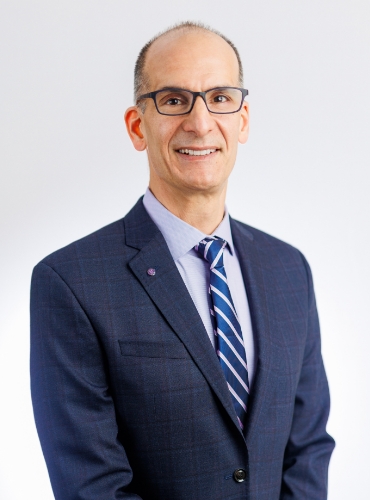 Keystone OMS was founded by esteemed board-certified oral and maxillofacial surgeon Dr. John Clemenza. Dr. Clemenza provides exceptional patient care and treatment using his advanced training and experience. As a distinguished Fellow of the American College of Surgeons (FACS) and member of the American Board of Oral and Maxillofacial Surgery (ABOMS), Dr. Clemenza has demonstrated his commitment to excellence in the field. His commitment to providing optimal results and individualized, compassionate attention, coupled with his dedication to learning, make Dr. Clemenza and Keystone OMS highly sought-after for a variety of services, including:
---
Oral Surgery Services
Dental Implants
Restore your ability to bite, chew, talk, and smile with dental implants, a durable and natural-looking tooth replacement solution.
All-on-4® Dental Implants
Experience full mouth rehabilitation with the All-on-4® treatment concept. This method utilizes strategically placed dental implant posts to provide an effective solution for multiple missing teeth or anticipated numerous extractions.
Wisdom Teeth Removal
Avoid potential complications, infection, dental crowding, or impaction by opting for preemptive wisdom teeth removal. Most commonly experienced during the teenage years or early 20s, this procedure can help prevent future problems.
Impacted Canines
Impacted canines, also known as eyeteeth, can cause problems if they don't come in properly. However, surgical intervention can help. Depending on the reason for the impaction, Dr. Clemenza will advise you on the recommended option to move your canines into the right place.
Bone Grafting
Bone grafting helps repair damaged or diminished bone to help prevent unwanted changes to your facial appearance, improve the success of dental implant placement, and maintain your natural bone structure. This procedure regenerates bone in areas where it is needed, ensuring optimal support.
Tooth Extraction
Extraction may be necessary when a tooth is severely damaged or otherwise beyond repair. Dr. Clemenza performs safe and efficient tooth extractions and can discuss tooth replacement options with you.
---
Cosmetic Services
BOTOX® & Fillers
Reduce the signs of facial aging with precision and safety through the administration of BOTOX® and dermal fillers. Dr. Clemenza's experience in facial anatomy ensures effective results, including the minimization of wrinkles, fine lines, and the restoration of lost volume.
Eyelid Lift
Enhance your youthful appearance and eliminate the appearance of heavy or droopy eyelids with an eyelid lift. This procedure offers subtle, long-lasting revitalization for a more refreshed and energetic look.
Facelift
Turn back the clock on facial aging with a facelift procedure designed to tighten the skin, reduce wrinkles, and lift facial features. Dr. Clemenza personalizes the treatment to address your specific aesthetic goals.
Brow Lift & Neck Lift
Achieve a refreshed facial appearance with brow lifts and neck lifts. These procedures address common concerns such as furrowed brows, excess fat, and tissue. They can be performed individually or in combination with a facelift.
Rhinoplasty
Harmonize your facial features by addressing structural issues with your nose through a rhinoplasty procedure. Whether it's the size or shape of your nose, the goal is to create proportion and balance with your other facial features.
Skin Rejuvenation & Scar Revision
Revitalize your skin and reduce the effects of aging, sun damage, the environment, and more with an individualized skin rejuvenation program Dr. Clemenza develops based on your concerns and desires. Imperfections from scarring can cause self-esteem issues, but oral and maxillofacial surgery or laser treatments are scar revision options that give you a fresh look.
Chin Reshaping & Cheek Implants
Enhance your facial symmetry and proportions with surgical chin reshaping and cheek implants. Keystone OMS offers these cosmetic surgeries to achieve harmonious and balanced facial features.
Facial Liposuction
Remove excess fat and tissue from the neck, chin, and cheeks with facial liposuction. This popular cosmetic surgery procedure helps contour your facial profile and improve overall facial aesthetics.
Chemical Peels & Salicylic Peels
Address acne scarring, discoloration, and other skin concerns with our range of chemical and salicylic acid peels. Keystone OMS offers different types of peels tailored to your specific aesthetic goals and skin condition.
CO2RE Laser Skin Resurfacing
Achieve a clear and radiant complexion with CO2RE laser skin resurfacing. This treatment removes blemishes and improves the overall appearance of your skin.
---
Oral and Maxillofacial Surgery Solutions for New Castle, PA
If you live in New Castle or surrounding areas and need dental or cosmetic services, a quick drive will bring you to Keystone OMS. To experience quality oral and maxillofacial surgery by Dr. John Clemenza and his welcoming team, schedule a consultation online or call (724) 981-8884.