January 19, 2023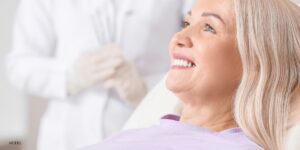 Do you want to improve your smile and achieve better oral health overall? All-on-4®  implants are a great way to get a brand-new smile and resolve aesthetic dental issues you may have. Find out why All-on-4® dental implants are so popular with people looking to enhance their smile.
The Biggest Benefits of All-on-4® Dental Implants
All-on-4® implants are dental implants that can replace your entire set of teeth. These implants consist of a dental bridge that is fixed in place. You can choose All-on-4® dental implants for a variety of reasons, including the following benefits.
1. Immediate Results
When you have All-on-4® dental implants placed, you get to see immediate results. Other alternatives can take several sessions to achieve your final result. With All-on-4®, you can walk out of the office the same day with a new set of teeth.
2. Improves Oral Function
Patients who have damaged or lost teeth may have trouble chewing and speaking. All-on-4® dental implants can replace the affected teeth and restore your oral function. These dental implants are fused to the jaw so that they do not move when you talk or eat.
3. Reduces Health Risks
Another benefit of getting All-on-4® dental implants is that they can address certain oral health issues. Many people who need dental implants have rotted or damaged teeth, which can lead to larger dental issues and affect the surrounding bone structure. All-on-4® dental implants offer natural-looking replacement teeth after tooth extraction, which can prevent bone resorption and can be placed without damaging your healthy teeth.
4. Enhances Facial Appearance
Broken, missing, or diseased teeth can affect the way your smile looks and impact your overall appearance. All-on-4® dental implants create a whole new smile that can complement your face.
---
All-on-4® Dental Implants at Keystone OMS
Are you looking to enhance your smile with a whole new set of teeth? Keystone OMS offers All-on-4® dental implants for patients throughout New Castle and Hermitage, PA. Dr. Clemenza brings more than 20 years of experience in oral and maxillofacial surgery to every case, helping each patient achieve their smile goals. The staff at Keystone OMS is known for quality care and commitment to patient satisfaction.
We'll work directly with you to ensure that you get the most out of your All-on-4® dental implants. Contact us online or at (724) 981-8884 today to learn more about All-on-4® dental implants.