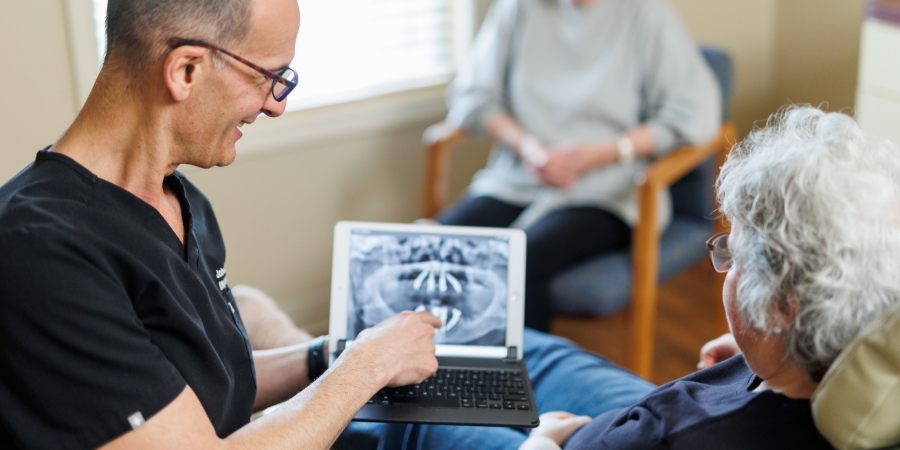 All-on-4® dental implants allow you to replace your full set of teeth with a fixed dental bridge that will not slip out of place or move around while you eat, talk, or laugh. Replacement teeth do not need to be removed for cleaning or while sleeping like traditional dentures. This treatment concept can empower you to go about your day-to-day life with more confidence knowing your teeth look and function great while being held firmly in place. Keystone OMS provides All-on-4 dental implant treatments for Hermitage, PA and all surrounding communities.
---
What Are the Benefits of All-on-4 Dental Implants?
The All-on-4® treatment concept allows you to leave our oral and maxillofacial surgery office with a full set of replacement teeth the same day and uses as few as four dental implants. The procedure also requires less bone volume due to how the implants are placed while providing greater stability, meaning more patients may be eligible for treatment. The All-on-4 treatment concept also helps to maintain facial structure and reduce bone loss while behaving like natural teeth. Additionally, restoring the entire smile with just 4 dental implants can provide significant cost savings when compared to other dental implant procedures that may require 6 or 8 implants.
---
Real Patient Results


---
What is Involved in the All-on-4 Process?
Dr. Clemenza will conduct a thorough oral exam to develop a personalized treatment plan that fits your needs and goals. Any remaining teeth will be extracted prior to placing the implants. CT technology is used to precisely guide the implant surgery and ensure dental implants are inserted in the correct position. An abutment is attached to the top of each implant, and then a temporary set of replacement teeth is connected until the implants have fused with the bone and your permanent teeth have been fabricated.
---
Ideal Candidates for All-on-4 Dental Implants
Ideal patients should be in overall good health and have any chronic conditions such as diabetes or high blood pressure well managed. You should also be missing most or all of your teeth already or know that they need to be extracted. You may already have dentures that you are unsatisfied with how they fit or function, or you want to skip dentures altogether. The oral and maxillofacial surgery team at Keystone OMS will check to make sure you have adequate bone volume and density, and he may recommend a bone graft to create a more stable foundation for the implants.
---
Rely on Us for Your All-on-4 Care
Are you tired of dealing with dentures that move around in your mouth or do not fit comfortably? Are you looking for a more permanent solution that will enable you to confidently eat the foods you enjoy? Turn to Dr. Clemenza and the team at Keystone OMS to learn more about the benefits of the All-on-4 treatment concept and find out if you are a good candidate. Contact our Hermitage office at (724) 981-8884 or online to schedule a consultation that is convenient for you.