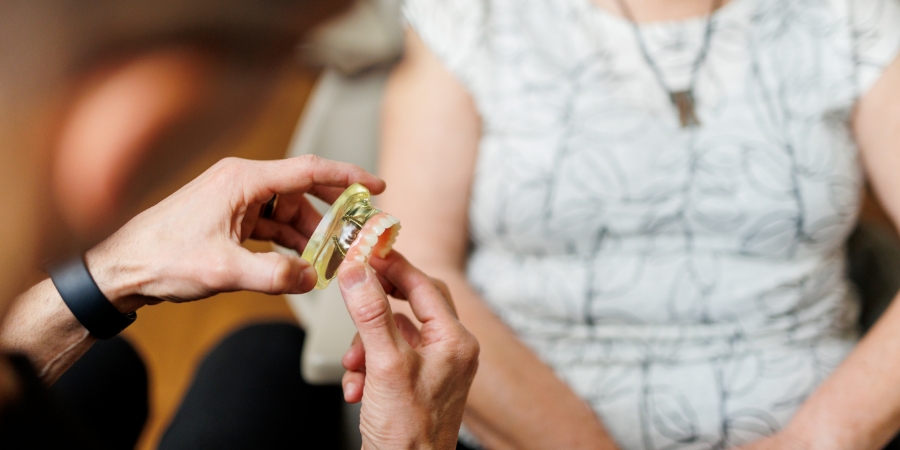 Feel more confident in your smile and appearance by filling gaps caused by missing teeth. Dental implants fit seamlessly and provide a strong foundation for replacement teeth. Restore your ability to eat the foods you enjoy with greater comfort and speak more naturally with a full smile. Keystone OMS provides dental implant placement for Hermitage, PA and all surrounding communities.
---
What Are Dental Implants?
Dental implants are small titanium posts that serve as artificial tooth roots. The oral and maxillofacial surgeon at Keystone OMS surgically inserts the posts into the jawbone, where they fuse with existing bone to anchor replacement teeth in place and prevent bone deterioration. Each implant has a small connector called an abutment that sticks out above the gum line and is used to attach a custom-made crown that blends in with adjacent teeth. Dental implants are strong and durable, lasting for years to come with proper oral hygiene and regular dental visits.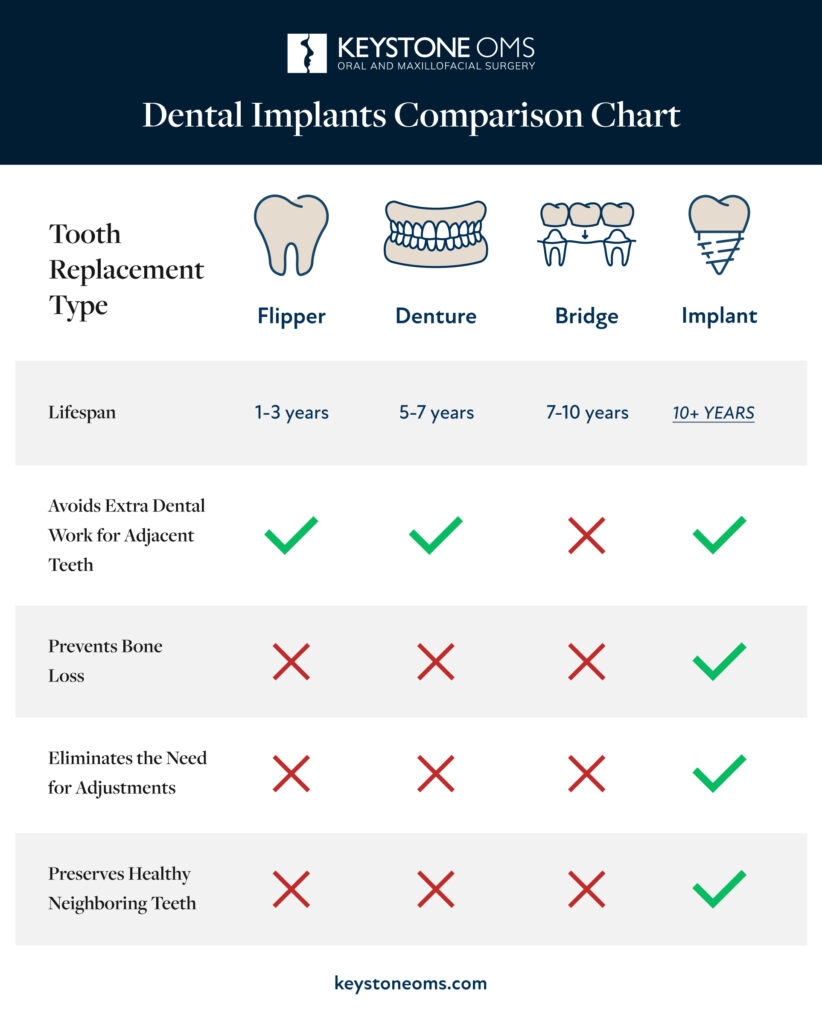 ---
Benefits of Dental Implants
They look, feel, and function like natural teeth.
They are cared for like natural teeth with regular brushing and flossing.

They enable you to eat virtually any food with confidence because they are securely anchored in place.
They stimulate the jawbone to prevent bone loss.
They fill in gaps in the smile to keep surrounding teeth from shifting out of place.
They do not rely on adjacent teeth for support like bridges or partial dentures.
They help maintain facial structure and prevent facial sagging.
They have the potential to last the rest of your life with proper care.
---
Why Are Dental Implants the Preferred Method of Tooth Replacement?
Many patients prefer dental implants because of their durability and reliability. Dental implants generally have a success rate of 95% or higher when placed by an oral and maxillofacial surgeon and last longer than other tooth replacement options such as bridges or dentures. You may need to periodically have a crown replaced due to normal wear and tear, but seldom does the actual dental implant need to be replaced. The durability of dental implants can make them more affordable in the long run than other tooth replacement options.
You can receive a dental implant for a single missing tooth, or as few as four implants can be used to hold an entire arch of replacement teeth in place using the All-on-4® treatment concept.
---
Contact Us for Dental Implants
Are you tired of having gaps in your teeth and ready to regain a full, beautiful smile? Enhance the look, function, and health of your teeth with dental implants. Dr. Clemenza of Keystone OMS takes the time to understand your needs and develop a personalized dental implant treatment plan while making your comfort and safety a top priority. Contact our Hermitage office at (724) 981-8884 or online to schedule an implant consultation.