April 12, 2023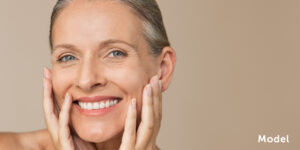 Dermal fillers are cosmetic injectables that add volume and rejuvenation to the skin. One of the dermal fillers used at Keystone OMS is Volbella®, a flexible and versatile formula that treats a variety of problem areas in the face to help you look young. If you are considering Volbella as part of your treatment plan, then you should know what to expect from that treatment.
What Is Volbella?
Volbella, an FDA-approved formula, is designed to smooth out wrinkles across the lower portion of the face. Some areas Volbella filler successfully treats include:
Thin lips
Fine lines near the mouth
Under-eye hollowing
Laugh and smile lines
Volbella works via small injections strategically placed in targeted areas of the face near the mouth. Its unique formula provides instant rejuvenation for aging skin, resulting in a revitalized appearance.
---
How Long Does Volbella Last?
Volbella is a biodegradable filler, which means your body absorbs it over time. While this means that it is safe for cosmetic injections, it also means that the results of any individual Volbella treatment will not last. Retreatment is necessary to keep your revitalized appearance.
Individual Volbella treatments last up to six months, depending on the injection area and the total number of units. You should visit Keystone OMS every 6 to 8 months for maintenance injections to maintain results.
Your cosmetic treatment may only include Volbella or may also incorporate other injectables. Volbella can be used with other filler products to help you achieve your desired results. The other dermal fillers may be on a different maintenance schedule, according to what Dr. Clemenza outlines for treatment.
Dr. Clemenza is an oral and maxillofacial surgeon, which means he has a thorough understanding of the anatomical structures of the face. He knows which dermal filler formulas to include in your custom treatment plan so that you can enjoy ideal, long-lasting, and natural-looking results.
---
Look and Feel Young with Keystone OMS
Keystone OMS helps patients from the Hermitage, New Castle, and surrounding Pennsylvania communities look and feel young through customized treatment plans. When you visit Keystone OMS, you receive a unique treatment plan tailored specifically to you.
Learn more about dermal fillers and how they can help you achieve revitalized, youthful results.