February 2, 2023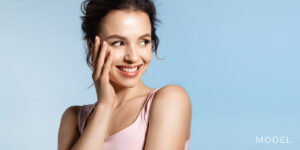 Are you concerned with fine lines and wrinkles that have appeared on your face? Wrinkles, creasing, and fine lines are the most common signs of aging that affect the skin.
While you may be layering skin care products to resolve these age-related changes, they do not always resolve the concerns. A more effective way to combat fine lines, wrinkles, and creasing is with cosmetic treatments like BOTOX® and dermal fillers.
BOTOX® vs. Dermal Fillers
BOTOX® and dermal fillers are both injectable aesthetic treatments that work beneath the skin to create a more youthful appearance.
BOTOX® is a neuromodulator that creates smoother, tighter skin to prevent wrinkles from forming in the first place. Dermal fillers are volume enhancers that add fullness beneath the skin to fill out sagging, wrinkled areas of the face.
---
Real Patient Results


---
BOTOX® and Neuromodulation
As you age, your skin slows its production of collagen and elastin. This causes the skin to decrease in elasticity.
While your younger skin may have bounced back from continuous movement, your mature skin cannot do that as well. Facial expressions like frowning, laughing, and smiling may leave behind wrinkling and creasing, which are noticeable around the mouth and eyes.
Neuromodulators like BOTOX® reduce wrinkles and fine lines by subduing your facial movement. When injected beneath the skin, BOTOX® interacts with your nerves and muscles to restrict the skin's movement.
This creates a tightening effect and prevents further wrinkles from developing because the muscles learn to stay relaxed.
BOTOX® can also be used to reduce muscle strain in the neck, alleviating things like chronic headaches.
Dermal Fillers and Increased Volume
Another age-related change that occurs in the skin is a decline in hyaluronic acid. Hyaluronic acid gives skin its supple, youthful volume. When production tapers off, your skin can become wrinkled and begin to sag. This result is most noticeable under the eyes, on the cheeks, and along the jawline.
Dermal fillers combat volume loss by increasing fullness beneath the skin. Most dermal fillers use synthetic hyaluronic acid to add subtle volume to the cheeks, under the eyes, and along the jaw. Dermal fillers can round out hollow, sagging areas while smoothing fine lines.
---
BOTOX® and Dermal Fillers at Keystone OMS
When used in conjunction, BOTOX® and dermal fillers can create a more youthful overall appearance. Keystone OMS in Hermitage, PA offers both of these treatments to address age-related changes in different areas of the face.
Our oral and maxillofacial surgeon uses cutting-edge techniques and products to help every patient reach their unique cosmetic goals. With a commitment to safety and efficacy, we are a leading provider of aesthetic injectables serving the Hermitage and New Castle communities.
Contact us online or at (724) 981-8884 today to learn more about BOTOX® and dermal fillers.