Problems with your oral health can sometimes compromise your ability to bite and chew without pain or smile with any confidence. Sometimes, the best solution to these issues is to seek oral surgery. Patients in Butler, PA, entrust their oral and maxillofacial surgery needs to Keystone OMS, a practice known for its total commitment to patient comfort, safety, and clinical results. Our practice also provides cosmetic solutions, making us trusted partners for the restoration of form as well as function.
---
Meet Our Experienced Oral Surgeon, Dr. Clemenza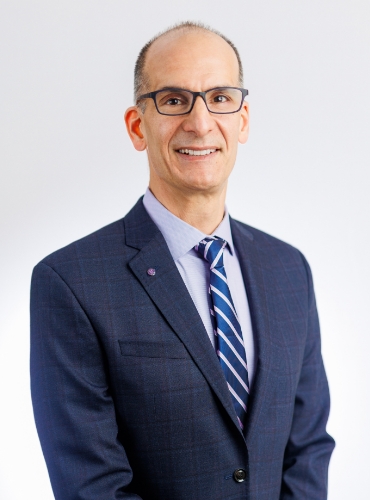 Board-certified oral and maxillofacial surgeon Dr. John Clemenza is a Fellow of the American College of Surgeons (FACS). He earned his Bachelor of Science in Biology from Washington and Jefferson College, followed by his Doctor of Medicine in Dentistry (DMD) from the University of Pittsburgh School of Dental Medicine. Additionally, he holds a medical degree from Drexel University College of Medicine. Dr. Clemenza is known throughout the Butler, PA area for his clinical precision and for his friendly, compassionate approach to patient care.
---
Our Oral Surgery Services
Dental Implants
Losing a tooth can impede your quality of life while also compromising the integrity of your smile. One of the best options for dental restoration is to get implants, which function as artificial tooth roots and support the placement of dental prostheses. Dental implants can provide long-lasting results that look beautiful and natural.
All-on-4® Dental Implants
If you are missing many teeth or anticipate the need to have a number of teeth removed, you may be a good candidate for All-on-4®. With this advanced approach, Dr. Clemenza can replace entire dental arches using just a few implants placed in strategic locations in your jaw.
Wisdom Teeth Removal
Having your wisdom teeth removed is a rite of passage and an important preventive measure. By leaving your wisdom teeth in place, you run the risk of impaction, chronic discomfort, the formation of cysts, crowding and spacing issues, and more. Dr. Clemenza can remove your wisdom teeth safely and expediently.
Impacted Canines
When a tooth is impacted, that means it remains trapped under gum and bone, as opposed to emerging like normal. The canines are especially prone to impaction, but Dr. Clemenza can create a healthy pathway for them to erupt the way they are supposed to.
Bone Grafting
When you lose a tooth, it is common to lose some of your jaw bone, too. This leads to unwanted changes to your facial appearance, and also makes dental implant placement more difficult. Through bone grafting, you can regain jaw bone where you need it the most, becoming a much better candidate for dental restoration.
Tooth Extraction
The goal of dentistry is to preserve your natural teeth, but in some cases, this may not be possible. When a tooth is badly damaged or diseased, it may be necessary to have it extracted. Dr. Clemenza can safely and expediently remove non-viable teeth and educate you on tooth replacement options.
---
Our Cosmetic Services
BOTOX® & Fillers
Injectable medications are popular ways to rejuvenate your facial appearance, offering natural-looking results without the need for surgery. We offer patients in the Butler, PA, area access to BOTOX® and dermal fillers, allowing for wrinkle reduction, skin tightening, and more.
Eyelid Lift
Heavy or droopy eyelids can cause you to look tired all the time, which in turn makes you seem older than you really are. An eyelid lift is a popular cosmetic procedure that can rejuvenate your facial appearance, creating beautiful and natural-looking results.
Facelift
Dr. Clemenza has much experience performing facelift surgeries. A facelift can be performed to remove excess skin, eliminate wrinkles and fine lines, and provide an overall refreshed appearance. Dr. Clemenza's knowledge of facial anatomy qualifies him to provide natural-looking results and emphasize your comfort and safety.
Brow Lift & Neck Lift
If you have a fallen or heavy brow, a brow lift may be the best way to rejuvenate your facial appearance. Meanwhile, a neck lift can tighten the skin and reduce wrinkles or flab around the neck. Both procedures may be performed individually or in conjunction with a facelift.
Rhinoplasty
Rhinoplasty procedures can correct structural issues with your nose, addressing issues of size, shape, or proportion. Dr. Clemenza performs rhinoplasties, or "nose jobs," with an emphasis on harmonious results.
Skin Rejuvenation & Scar Revision
We offer a range of services to rejuvenate the skin, reducing the visibility of age spots, sun damage, discoloration, and beyond. Our skin rejuvenation options include treatments to minimize the visibility of scarring.
Chin Reshaping & Cheek Implants
One way to gain a more harmonious and proportional facial appearance is by reshaping the chin. Additionally, cheek implants can be used to restore facial fullness. These procedures work well individually or in tandem.
Facial Liposuction
Liposuction is a very common surgical procedure used to eliminate unwanted fat from virtually anywhere on the body. At Keystone OMS, we focus on facial liposuction, including the removal of unwanted fat from under the chin or the top of the neck.
Chemical Peels & Salicylic Peels
Chemical peels can be a great way to address common facial blemishes, resulting in a clear and youthful complexion. We offer a number of peels, and during an initial consultation, we are happy to tell you more about the peels that best fit your aesthetic goals.
CO2RE Laser Skin Resurfacing
Laser skin resurfacing can remove common blemishes while promoting the growth of healthy new layers of skin. We provide laser treatments to address discoloration, acne scars, uneven skin tone, and other concerns.
---
You're in Good Hands with Keystone OMS
Keystone OMS offers full-scope oral and maxillofacial surgery and cosmetic surgery solutions for patients in Butler, PA, and beyond. To schedule a consultation with Dr. Clemenza, contact our office directly at ​​(724) 981-8884.