Whether you are looking for tooth replacement, wisdom teeth removal, or a facial cosmetic procedure, it is important to find doctors who put patient comfort and safety first. At Keystone OMS, we have a reputation for clinical excellence and compassionate care. We are happy to provide a full range of oral and maxillofacial surgery and cosmetic surgery solutions to Cranberry Township, PA, and the surrounding community.
---
Meet Our Experienced Oral Surgeon, Dr. Clemenza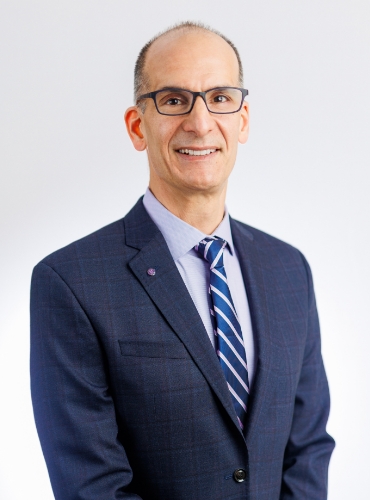 Dr. John Clemenza is board-certified in oral and maxillofacial surgery, meeting the highest standards of patient safety and quality of care. Additionally, he is a Fellow of the American College of Surgeons (FACS). He earned his Bachelor of Science in Biology from Washington and Jefferson College, followed by his Doctor of Medicine in Dentistry (DMD) from the University of Pittsburgh School of Dental Medicine. Dr. Clemenza also holds a medical degree from Drexel University College of Medicine.
---
Our Oral Surgery Services
Dental Implants
When you lose one or more teeth, it can make it more challenging to bite, chew, or smile with confidence. Dental implants are widely considered to be the best way to replace missing teeth. Not only do they provide natural-looking and long-lasting results, but unlike other treatments, they do not require healthy bordering teeth to be compromised.
All-on-4® Dental Implants
The All-on-4® treatment concept is well-suited for patients who are missing many teeth, even entire arches. With this approach, Dr. Clemenza will strategically place just a few dental implants, using them to anchor dental prostheses. The result is full-mouth rehabilitation with minimal downtime.
Wisdom Teeth Removal
Most people get their wisdom teeth at some point in their teens or early twenties. When left in place, the wisdom teeth typically become impacted, which means they stay trapped under gum tissue or bone. Dr. Clemenza can carefully remove your wisdom teeth, helping you avoid any long-term complications.
Impacted Canines
Any tooth can become impacted, resulting in pain, crowding and spacing issues, and a heightened risk of bacterial infection. This is especially common with the canines. Through surgical intervention, you can enjoy a natural and healthy smile with all your teeth in their rightful position.
Bone Grafting
When you lose a tooth, you often lose bone in the area, as well. This can lead to unwanted changes to your facial appearance, and also complicate dental restoration. A bone graft can help regenerate bone where you need it most, making you eligible for dental implants or All-on-4®.
Tooth Extraction
The goal of dentistry is to preserve natural teeth. Sometimes, a tooth may become so diseased that it is beyond saving. Dr. Clemenza provides safe and expedient tooth extractions for patients throughout Cranberry Township, PA, and the surrounding area.
---
Our Cosmetic Services
BOTOX® & Fillers
Injectable medications offer a popular way to rejuvenate your facial appearance. Non-invasive and with minimal downtime, BOTOX® and fillers can be used to minimize the appearance of wrinkles and fine lines, and restore lost facial volume.
Eyelid Lift
Heavy or droopy eyelids can cause you to look tired all the time, even when you actually feel energetic. An eyelid lift is a simple cosmetic procedure that can address this concern, restoring you to a youthful and energetic facial appearance.
Facelift
Dr. Clemenza has significant experience performing facelift procedures. A facelift can be performed to remove excess skin, minimize wrinkles and fine lines, and provide an overall refreshed appearance. Dr. Clemenza emphasizes beautiful and natural-looking results.
Brow Lift & Neck Lift
Brow lifts and neck lifts may be used individually, in tandem, or even in conjunction with a facelift. Both procedures represent effective ways to address the signs of facial aging, leading to a rejuvenated appearance.
Rhinoplasty
Also known as a "nose job," rhinoplasty is a surgical procedure used to change the underlying structure of the nose. Rhinoplasty may be used to correct issues with the size or shape of the nose, and to bring it into greater harmony with the other facial features.
Skin Rejuvenation & Scar Revision
At Keystone OMS, we provide patients in the Cranberry Township, PA community with a range of services to rejuvenate the skin, reducing the visibility of age spots, sun damage, discoloration, and beyond. We also offer procedures to minimize the presence of scarring, rendering it virtually invisible.
Chin Reshaping & Cheek Implants
One of the best ways to gain a more proportional, harmonious facial appearance is to reshape or augment the chin. Additionally, cheek implants can be used to provide additional volume, resulting in a more youthful and rounded facial appearance.
Facial Liposuction
Liposuction is an incredibly common surgical procedure used to carefully remove unwanted fat and tissue from virtually anywhere on the body. Our practice focuses on facial liposuction, including the removal of unwanted fat from under the chin or at the top of the neck.
Chemical Peels & Salicylic Peels
We provide a range of chemical peels to our patients in the Cranberry Township, PA community. During an initial consultation, we will learn more about your aesthetic goals, and recommend the chemical peels best suited to your needs.
CO2RE Laser Skin Resurfacing
Laser skin resurfacing is one of the most advanced and effective ways to restore the skin, returning it to a smooth and clear complexion. We offer laser skin resurfacing to address a host of common blemishes and concerns, including acne scarring.
---
You're in Good Hands with Keystone OMS
For a trusted surgeon who always puts patient care first, choose Dr. Clemenza. If you live in the Cranberry Township, PA area and wish to schedule a consultation, contact Keystone OMS at your next opportunity. Schedule online or call (724) 981-8884 today!