Oral health concerns can cause a range of problems. Not only can they compromise your smile, but they may also make it more difficult to bite and chew as normal. Through clinical intervention, you can enjoy aesthetic and functional restoration. At Keystone OMS, we provide full-scope oral surgery solutions in a safe and comfortable manner to patients who live in beautiful Warren, OH.
---
Meet Our Experienced Oral Surgeon, Dr. Clemenza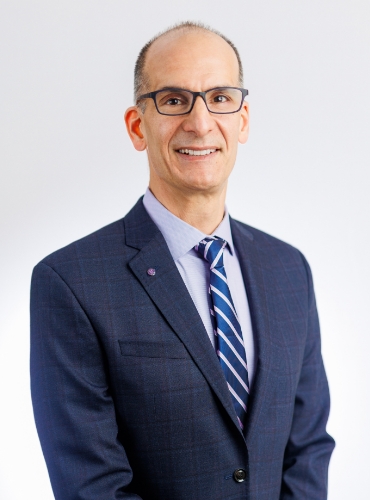 Dr. John Clemenza is a board-certified oral and maxillofacial surgeon and a Fellow of the American College of Surgeons (FACS), distinctions that qualify him to provide the highest standards of patient care. He earned his Bachelor of Science in Biology from Washington and Jefferson College, followed by his Doctor of Medicine in Dentistry (DMD) from the University of Pittsburgh School of Dental Medicine. He received his medical degree from Drexel University College of Medicine before becoming a Fellow in Head and Neck Oncology and Reconstructive Surgery at the University of Maryland.
---
Our Oral Surgery Services
Dental Implants
Tooth loss can make it harder for you to bite, chew, or feel good about your smile. Thankfully, dental implants provide a natural-looking, long-lasting form of tooth replacement. Implants are the preferred method because they actively protect your oral health and prevent jawbone deterioration.
All-on-4® Dental Implants
Some patients in Warren, OH, may be facing widespread tooth loss. If you have lost many teeth, or anticipate the need to have multiple teeth removed, you may qualify for All-on-4®. This approach to tooth replacement involves just a few strategically placed implants. All-on-4® can restore an entire arch of teeth.
Wisdom Teeth Removal
Most people get their wisdom teeth by their early 20s, if not sooner. When left untreated, wisdom teeth often become impacted, which can cause pain, spacing and crowding issues, and an increased risk of oral infection. The best approach is usually to have your wisdom teeth removed preemptively.
Impacted Canines
When a tooth becomes impacted, that means it is stuck under layers of gum or bone. Impacted canines are especially common, but through a simple surgical intervention, we can provide a pathway to proper exposure. This treatment will be completed in conjunction with your dentist.
Bone Grafting
The loss of a tooth is often accompanied by the loss of bone. If you have insufficient bone in your jaw, it can make dental implant placement much more challenging. Bone grafting can help regenerate tissue where you need it most, making you a qualified candidate for successful dental restoration.
Tooth Extraction
While the goal of oral healthcare is always to protect your natural teeth, sometimes the teeth simply become too damaged or diseased to be saved. Dr. Clemenza provides simple, safe, and comfortable extractions and can also talk with you about options to replace your extracted teeth.
---
Our Cosmetic Services
BOTOX® & Fillers
Drawing from his extensive knowledge of facial anatomy, Dr. Clemenza safely and effectively administers injectable medications, including BOTOX® and fillers. These injectables can be used to temporarily address wrinkles, fine lines, or lost facial volume.
Eyelid Lift
When you have eyelids that appear heavy or droopy, it gives the appearance that you are constantly fatigued. One of the best ways to regain your youthful, confident appearance is with an eyelid lift. This surgical procedure will restore you to a natural and vigorous appearance.
Facelift
A facelift is a plastic surgery procedure used to remove excess tissue, lift the skin, and smooth away wrinkles and fine lines. In the hands of a skilled surgeon like Dr. Clemenza, you can enjoy a subtle yet substantial result, allowing you to look youthful and refreshed.
Brow Lift & Neck Lift
To address visible signs of the aging process on different parts of the face, we also offer brow lifts and neck lifts. These procedures may be performed on their own, together, or in conjunction with a facelift. Dr. Clemenza is happy to discuss the best ways to reach your aesthetic goals.
Rhinoplasty
Rhinoplasty is performed to change the size or shape of the nose. It may be used to address a nose that is bulbous, hooked, oddly shaped, or disproportionate to the other facial features. The goal of rhinoplasty is always to bring your facial features into beautiful, natural harmony.
Skin Rejuvenation & Scar Revision
We provide patients from Warren, OH, with a range of services to rejuvenate the skin, minimizing the appearance of age spots, sun damage, discoloration, and beyond. We can also help to minimize the presence of scarring, rendering it virtually invisible.
Chin Reshaping & Cheek Implants
Looking for ways to bring the chin or cheeks into greater harmony with your other features, achieving a more proportioned appearance? Dr. Clemenza provides both surgical chin reshaping and cheek implant placement, two good options to provide natural-looking, long-lasting results.
Facial Liposuction
Liposuction is one of the most common cosmetic procedures in the world, using suction technology to carefully remove excess fat and tissue. Our practice offers facial liposuction, allowing you to remove unwanted tissue from the cheeks or from under the chin.
Chemical Peels & Salicylic Peels
We provide a range of chemical peels to our patients in the Warren, OH, community. When you join us for a consultation, we will happily help you identify the type of peel that is best suited to meet your aesthetic goals, whether that is to reduce acne scarring, minimize sun damage, or simply refresh your tone and color.
CO2RE Laser Skin Resurfacing
Laser skin resurfacing is a safe and expedient way to remove unwanted blemishes from your skin, providing you with a beautiful and clear complexion. This treatment works for most skin types, and can even be used to reduce acne scarring.
---
You're in Good Hands with Keystone OMS
No matter your oral and maxillofacial surgery or cosmetic surgery needs, you can trust the clinical professionalism and caring demeanor of Dr. Clemenza. If you live in Warren, OH, we invite you to contact Keystone OMS to schedule a consultation. Book your visit online or call (724) 981-8884 today!